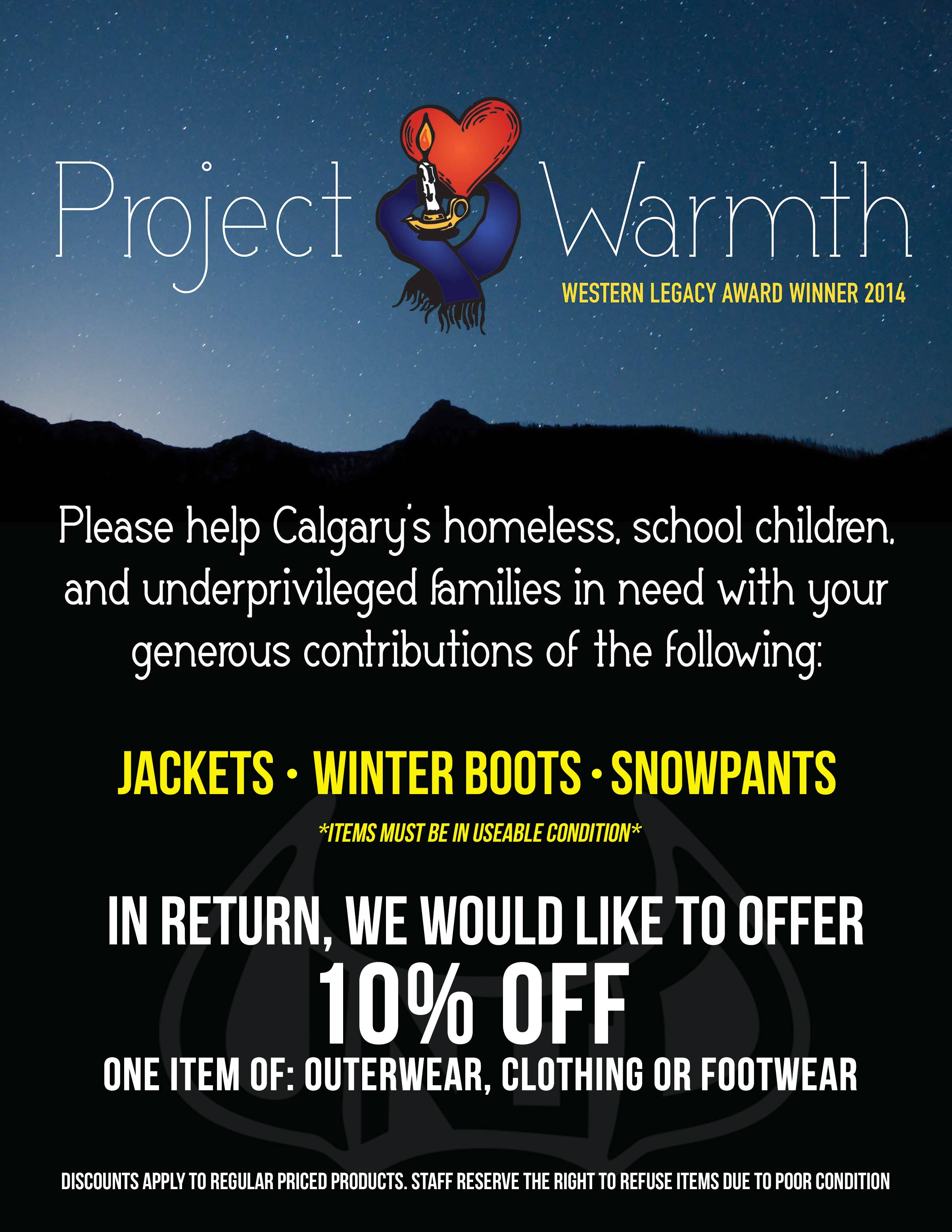 Trade in that old stuff for a good cause!
For the month of January we will be taking donations of: snow pants, jackets and/or winter boots. In return we would like to offer 10% off one item of clothing, outerwear or footwear (or equal # of items donated).
All items will be donated to Project Warmth.
Project Warmth is a Calgary charity that's been in operation since 1997. A Western Legacy award winner [2014]. We supply warm outer wear and
clothing to Calgarians in need. We partner with over 250 social agencies, community associations, church groups, and various levels of
government throughout Calgary that submit requests for warm winter jackets, toques and gloves/mitts on behalf of their clients [men, women
and children]. We do not operate any stores, nor do we sell any donated items. We are completely donation/grant based. We have no submission criteria. We filled requests for 80000 items last year and helped approximately 30000 people. Partnerships on clothing drives and financial donations from organizations like Unlimited Skate and Snow are crucial to us being able to help those families and individuals that need it the most.
How it works
Customers can donate:
Jackets, snow pants and/or winter boots.
If they do, they are entitled to a 10% discount on:
Either outerwear, clothing or footwear.
This discount does not multiply (IE if a customer donates 100,000 jackets, their discount is still only 10%).
Customers will receive a 10% discount on the same number of items donated (IE customer donates 3 jackets their 10% discount will apply up to 3 products, ect).
Discount can be on any item, as long as it is either an article of outerwear, clothing or footwear. The discount only applies to the regular price of the item.
Donated items must be of usable condition. the staff reserve the right to refuse excessively dirty or poor conditioned items.
To learn more about Project Warmth, visit their website at www.projectwarmth.com